Synopsis of "Tongue Snippin': A Life Changing Event," the first in the 2018 Breastfeeding Educational Series, "Look Who's Talking"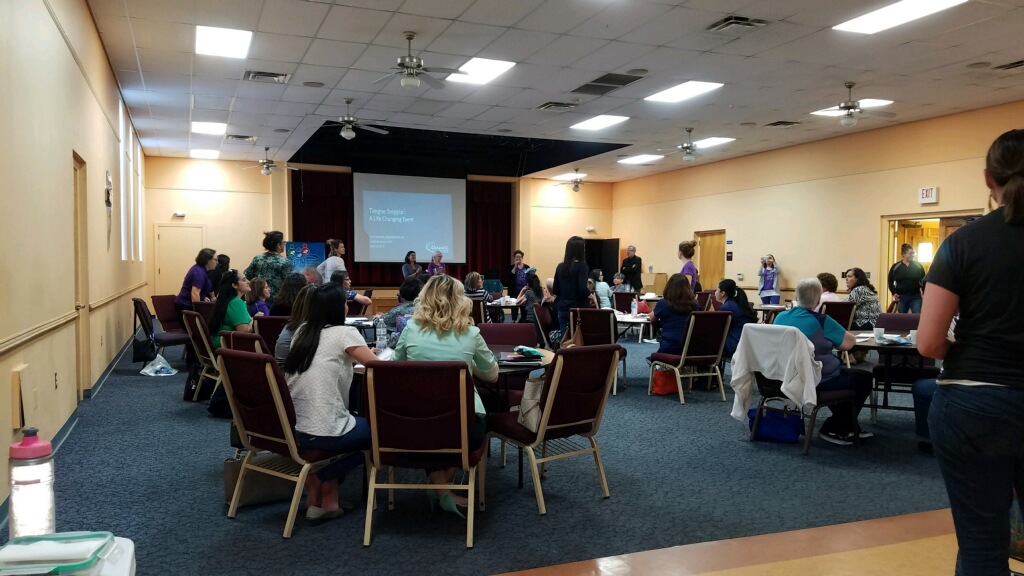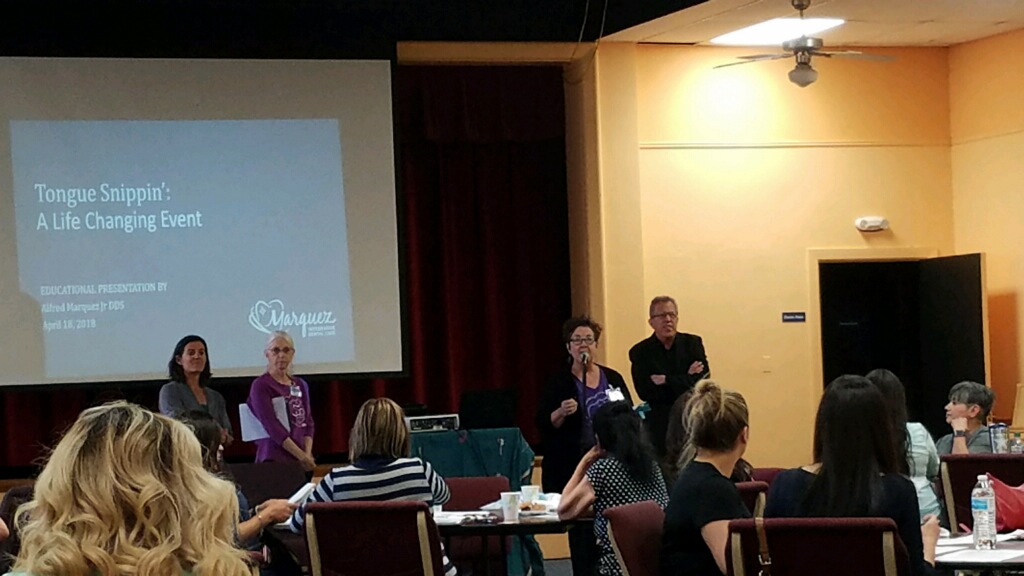 "Tongue Snippin': A Life Changing Event," was held on April 18, 2018 at 1140 N. St. Vrain, in El Paso, Texas, from 6-8pm. Dr. Alfred Marquez, Jr., DDS, presented an overwhelming set of slides taking the audience from the early development of mammals through to our current wave of breastfeeding mothers. Dr. Marquez outlined the adult consequences of, as a baby, having had an oral restriction such as Tongue Tie, Lip Tie, and high palate. He carefully demonstrated the many potential consequences of unrecognized restrictions such as malocclusion, sleep apnea, mouth breathing, ADHD, even bed wetting in children who were breathing differently due to a restriction. We particularly liked it when Dr. Marquez referred to breastfeeding as "Nature's Dental Appliance"!
We were thrilled to host over 50 Registered Nurses, Lactation Consultants, Dietitians, Dentists, Speech Language Pathologists, Social Workers, Doulas, Community Health Workers and Midwives. The audience included several babies and children and many of the members of the Binational Breastfeeding Coalition who volunteered their time to make this event a success. Many members brought snacks for the crowd, others donated time, supplies, and irreplaceable expertise.
It was roundly deemed a success in that we surpassed our goal of 40 pre-registered attendees with a total of 52. We also offered a discount to students who weren't looking for the Continuing Education Credits. We offered 2 hours of CNEs for Nurses provided by University Medical Center at El Paso's Nursing Education Department, and our International board certifying agency, IBLCE or International Board of Lactation Consultant Examiners verified this event for 2 hours of L-CERPs.
We would like to thank Dr. Alfred Marquez, DDS for generously donating all the time he dedicated to preparing and presenting this lecture! Thank you, Dr. Marquez, and thank you BBC members for beginning the lecture series "Look Who's Talking" with a smash!
Resúmen de "Tongue Snippin': A Life Changing Event," La Primer Conferencia En Nuestra Serie Educativa Sobre La Lactancia "Look Who's Talking" (Mira Quien Habla) del 2018
La conferencia "Tongue Snippin': A Life Changing Event" se llevó a cabo el 18 de abril del 2018 en el 1140 N. St. Vrain, en El Paso, TX, de las 6pm-8pm. El Dr. Alfred Márquez, Jr., DDS, presentó una enorme colección de diapositivas que llevó a la audiencia desde el desarrollo temprano de los mamíferos hasta la oleada actual de madres lactantes. El Dr. Marquez destacó las consecuencias en la edad adulta que experimentan aquellos que en su infancia tuvieron restricciones orales tales como Lengua Trabada, hipertrofia del frenillo del labio superior, y paladar alto. Demostró cuidadosamente las muchas consecuencias potenciales de restricciones no reconocidas como maloclusión, apnea del sueño, respiración por la boca, ADHD (Desorden de Déficit de Atención e Hiperactividad), y hasta incontinencia urinaria nocturna en los niños. ¡Particularmente nos agradó que el Dr. Márquez se refiriera a la lactancia como "El Aparato Dental de la Naturaleza"!
Nos encantó ser anfitriones de más de 50 enfermeros(as) registrados(as), asesores de lactancia, nutricionistas, dentistas, patólogos de lenguaje y habla (logopedas), trabajadores sociales, doulas, trabajadores de salud de la comunidad, y parteras(os). La audiencia incluyó varios bebés y niños y bastantes miembros de la Coalición Binacional de la Lactancia quienes dieron de su tiempo como voluntarios para que este evento fuera un éxito. Muchos miembros trajeron aperitivos para el grupo, otros donaron su tiempo, materiales, y pericia irremplazable.
El evento fue un rotundo éxito dado que sobrepasamos nuestra meta de tener 40 asistentes pre-registrados con un total de 52. También ofrecimos descuentos a aquellos estudiantes que no buscaban obtener créditos de Educación Continua. Ofrecimos dos horas de CNEs para enfermeros(as) provistos por University Medical Center en el Departamento de Educación de Enfermería de El Paso y nuestra agencia internacional de certificación del consejo, IBLCE o la Junta Internacional de Asesores Examinadores de Lactancia (International Board of Lactation Consultant Examiners) verificó este evento para 2 horas de L-CERPs.
¡Queremos agradecer al Dr. Alfred Márquez, DDS por generosamente donar todo el tiempo que dedicó a preparar y presentar esta conferencia! ¡Gracias, Dr. Márquez, y gracias a ustedes los miembros de la BBC por hacer del inicio de esta serie de conferencias "Look Who's Talking" (Mira Quien Habla) todo un exitazo!